PhD candidate Yi Fan wins IADR Innovation Award for Excellence in Orthodontics Research
Melbourne Dental School PhD candidate Yi Fan achieved tremendous success at the recent International Association for Dental Research (IADR) General Session & Exhibition in Vancouver, Canada.
Yi outside the Melbourne Dental School (University of Melbourne)
In addition to giving an oral presentation which generated much discussion among Orthodontics Research Group (ORG) members, Yi also participated in the competition for the IADR Innovation Award for Excellence in Orthodontics Research, where she placed first among the ten finalists chosen to present to the judging committee.
About the IADR Innovation Award for Excellence in Orthodontics Research
2019 was the inaugural year for the IADR Innovation Award. This award acknowledges excellence in orthodontics research conducted and presented by all ORG innovators at the IADR General Session & Exhibition. The competition was open to ORG members at all levels – including faculty, postdoctoral fellows, graduate students, dental residents, and dental students.
Yi was awarded a Certificate of Recognition, a USD $500 award as well as an expedited review to publish her award-winning research in CTOR Press' open access, peer-reviewed, online journal INNOVATION.
About Yi's award-winning research
Yi presenting at IACR Vancouver 2019
Yi presented on 'Automatic landmarks indication and mandibular morphological assessment in 3D'.
She describes her research:
"Precise quantification of mandibular deformities is important for diagnosis and treatment planning in orthodontics and orthognathic surgery. Mandibular morphology has traditionally be quantified with 2D cephalometrics, where linear distances and angles are calculated by relying on sparse sets of landmarks manually placed on the image."
In my talk, I described a fully automatic pipeline, which enables fast and high-throughput mandible segmentation and quasi-landmarks indication. The usefulness of this approach is illustrated in mandibular skeletal asymmetry assessment in 3D. This study represents a step forward in our ability to describe complex mandibular morphology using a dense set of quasi-landmarks that cover the entire surface of the mandible. The automatic image processing pipeline provides objective and reproducible measurements which speeds up the image analysis procedure and advances our ability to analyse 3D data in large scale."
Yi's journey
Yi at IADR General Session in Vancouver, Canada
"My journey started last year when I competed at the Colgate Competition at the Melbourne Dental School. I was selected and offered funding to compete at the Annual Scientific Meeting of the IADR ANZ Division in Perth. As the second prize winner of the Perth Colgate Competition, I was lucky enough to be fully supported to continue to step into a bigger arena – the IADR General Session in Vancouver, Canada," said Yi.
"It has been a huge honour to have the opportunity to make my voice heard by so many domestic and international audiences at various occasions. I am grateful for all the challenges and criticisms from the judges – they have made me stronger. I appreciate the insightful guidance from my supervisors who empower me to do my best, always."
I am pleased to witness myself grow from a shy and humble second-language speaker to a confident researcher throughout my PhD training at the Melbourne Dental School and the Murdoch Children's Research Institute. I look forward to continuing to work in this fascinating field and make more dreams come true."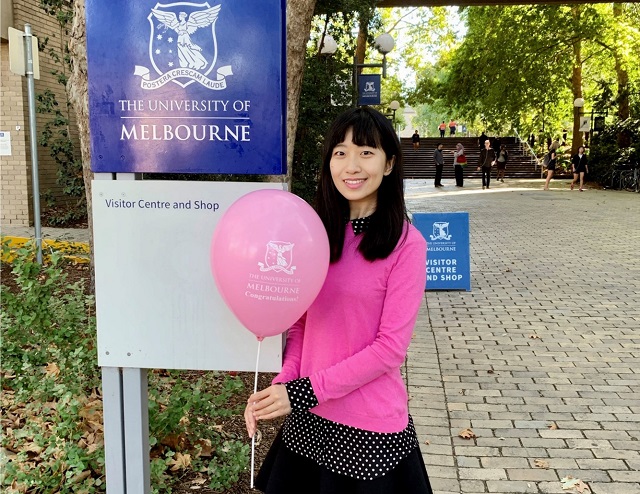 Yi at the University of Melbourne (Parkville)'s Wominjeka/Welcome entrance
-
Congratulations to Yi on her fantastic achievements!