Melbourne Dental students focus on oral health in Cambodia
At the end of 2018, a team of Doctor of Dental Surgery (DDS) students from the Melbourne Dental School volunteered for One-2-One CAMBODIA. DDS student, William Hong, led his team to provide oral health education and treatment. William shares his recount of the trip with us.
Melbourne Dental School team (William pictured in the centre)
Day of arrival
The eleven of us arrived in the halls of Phnom Penh Airport, greeted by a student living in Khairos Home. She was one of the students One-2-One CAMBODIA sponsors throughout their schooling by aiding in food and boarding for those from remote communities.
Throughout the bustling streets of Phnom Penh we headed discreetly along a dirt road to our accommodation located in the heart of the city. Settling in next to decrepit buildings, we were treated to the local cuisine for dinner – water cress, capsicum with beef, Chinese broccoli and chicken with lettuce. Green was the prominent theme of our meals.
We spent the rest of the day exploring the Central Market and the National Museum before the intense day ahead.
Memorable first day at a local primary school
We woke bright and early for an 8.00am minibus to our clinic. Our clinic was set up in a temporary location, a spare building at Kdey Takoy Primary School. The furnishings were sparse with about five chairs arrayed in a small room with one compressor for handpiece drills and no vacuum suction.
We began our day with an orientation. The overarching aims of the clinic were preventative and atraumatic dentistry, i.e. preventing dental disease such as caries (dental decay) and periodontitis (gum disease) before they occur. Due to the limited resources of the clinic, the main procedures we could undertake to manage any dental conditions were oral hygiene instruction (with the help of an instructor), remineralisation using silver diamine fluoride, fissure sealants, atraumatic restorative technique (the use of hand instruments to restore broken down teeth), and extraction of unrestorable teeth. Although we were advised of the high DMFT (decay-missing-filled) index in the area, nothing would truly prepare us for what we were about to see.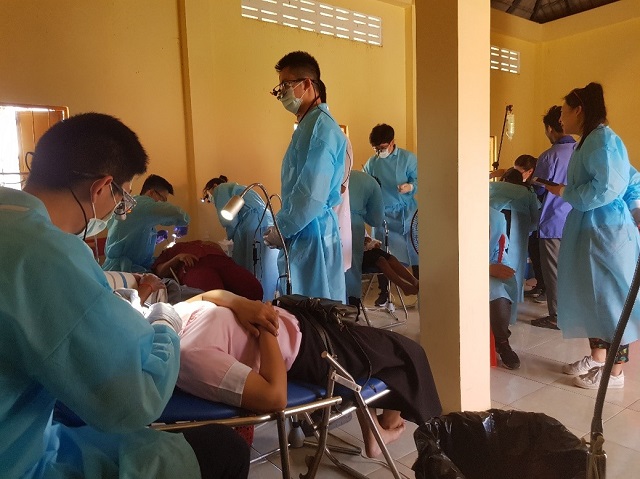 Melbourne Dental students performing procedures
Cambodia is still a developing nation with a high poverty rate. Talking to the locals, conditions are improved in the main city centres, such as Phnom Penh, but there is still a lot of growing required, especially in comparison to Australia. One anecdote that stood out to me described just how impoverished some families were – imagine: a family of five having a single worn down toothbrush to share amongst all members.
Yet, while the country is poor, globalisation has seen the growth of imports into the country, and unfortunately one of the cheapest imports available is sugar.
As we were in a primary school, the typical patient for us was a child aged 6-12, seen during play time. For the majority of these kids, of 20 deciduous teeth at least 10 would be heavily broken down with caries, and most to the point of being unrestorable.
The first permanent molar typically erupts at 6 years old, and we saw 7-8 year olds with large holes in teeth that are meant to last for the rest of their lives. It was a real eye-opening experience and something I will never forget. The saddest part was not being able to comprehensively treat every tooth due to the limitations of clinic resources and time. The best we could do for most of these kids was to attempt to arrest these large areas of decay using silver diamine fluoride and fissure seal the permanent posterior teeth.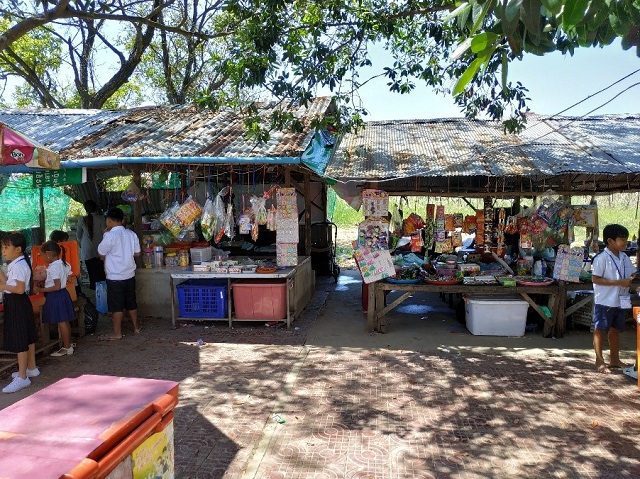 Makeshift canteen
Ironically, outside, just five metres from our clinic, was a makeshift canteen under drapes of tarp, selling bountiful amounts of snacks, sweets and soft drinks; and there was not a lack of customers.
Unfortunately, this is the reality of the landscape in Phnom Penh and occurring in the hundreds of schools in the area. This stark realisation really humbled me.
Volunteering at a correctional facility
Melbourne Dental School team outside Correctional Centre 1
One of our five clinic days was spent at Correctional Centre 1, a correctional facility for criminals.
Upon arriving we went through multiple security checks before we could enter a makeshift temporary clinic. Set-up took an hour as we transformed a spare office into a functional surgery with six chairs. Dental work could only be completed during the prisoner's free period. We completed many preventative oral hygiene instruction, restorations and extractions.
Final words
Overall, the experience was incredibly fulfilling. I felt a huge sense of accomplishment aiding a population where oral health may never have been considered a priority. I hope my efforts initiated a greater focus on oral health and preventative dentistry. The trip has reinforced my purpose in dentistry and helped me stay true to why I chose this profession – to help others.
The humbling experience has reinforced my philosophy, beyond student life, and I hope in the future it will help me deliver greater patient care during the challenging times of my career.
– William Hong, Doctor of Dental Surgery
(December 2018)